Manufactured Homes
Raise your expectations. Manufactured homes are affordable, stylish, customizable, durable, and constructed by our trusted partner.
Manufactured Homes

Modular Homes
Create the exact home you want. Choose your interior and exterior options and save money at the same time.
Modular Homes

Pre-Owned
Don't worry. We update every pre-owned home to ensure everything works as it should.
Pre-owned Homes
Contemporary & Comfortable Layouts
An economical home should still be beautiful. That's why we're an authorized dealer of Friendship Homes of Minnesota. Friendship Homes leads the systems-built housing industry in innovation and superior construction techniques. All of our manufactured and modular homes are built in Minnesota for the North country, featuring fresh interior layouts and contemporary exteriors – so your new house will feel like a home in no time.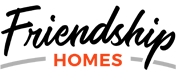 BROWSE
With several styles to choose from, modular homes are constructed to fit your personality and lifestyle.
Check off all the affordable features and amenities on your list with one of our manufactured homes.
Our pre-owned homes are thoroughly reconditioned; all furnaces, water heaters, and appliances are guaranteed to work upon delivery.
Have questions?
Find answers.